About our Classes for Kids

Ashihara Karate presents special classes for children from the age of 3 and upwards. These classes have been designed especially for children by Shihan Hoosain Narker, a Black Belt, who has more than 30 years of martial arts experience.



If it seems as if our classes are chaotic - i.e. Without a system, then it is because it has been designed so for one purpose only. That is to suit our children. More than anything else, kids need to be kids. Their training is not geared for mortal combat as it is for adults. Instead, the emphasis is on the development of self-discipline, agility, balance, co-ordination, self-confidence, and some basic defence skills. And most importantly, it is Fun! After all, if they don't enjoy it, they won't learn it. An Open letter to Parents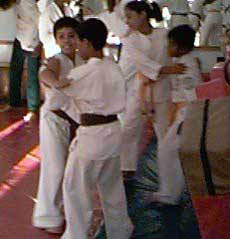 It is probably a common concept of most people that Karate is only for those who are interested in offensive and defensive physical situations. Also you might believe that the study of Karate involves a child only because he or she is going through a particular phase of growing up. Without going into great length, we would like to tell you what Ashihara Karate teaches beyond Self Defence. There is nothing secret or mysterious about the principles and philosophy of Ashihara Karate. Basically the study of this art like any other art or profession, demands strict control and discipline. A total discipline that encompasses physical as well as mental control under all conditions and situations.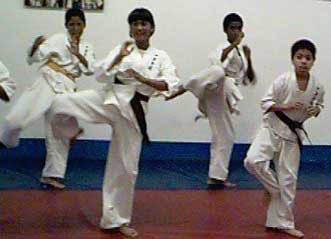 There is some evidence to indicate that if Karate is taught as a compulsory program in Primary schools, that Juvenile delinquency and all that goes with it would diminish significantly. Children as well as Adults are not only taught, but in most cases are shown by the example of their instructor the true meaning of decency in personal conduct and respect for all life and properties in all ways. Physical exercise, decency, proper conduct, respect and discipline, and a sense of proper values are just a few of the important attributes a student must and will acquire during his or her study of Ashihara Karate.

By making sure that your children attend regular classes you will be giving your child a head start in achieving a happy well-organised style of living. Many parents do not realise the depth and scope of a good martial arts training. It offers a lot more than just surface value. Along with proper guidance from parents, the study of Ashihara Karate is an invaluable aid in creating a well adjusted human being. If any parent would like more information or has any questions, we encourage you to talk to your dojo instructor or write to or telephone our headquarters.

Classes at:
League of Friends of the Blind (LOFOB)
Klip & First Roads, Grassy Park

Training Times:
Monday & Wednesday
5.30 - 6.30pm : Kids
6.30 - 8.00pm : Adults


For further information call Kaicho at: 021-7011701 or Cell 082 369 6904, e-mail: info@ashiharakarate.org or our website at
www.ashiharakarate.org