Corporate Program – Ashihara Karate International – Kaicho Hoosain Narker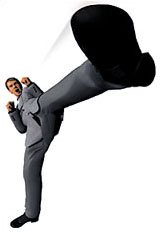 Your company can provide a kick butt benefit at zero cost!
The Ashihara Karate Corporate Program provides  employees with significant savings on beginner programs. It's the only corporate discount program that extends the savings to employees immediate family members. Plus, no minimal enrolment requirement.

Participating Employee Benefits A Free Introductory Course at the location of your choice. 15% discount on a beginner program. All employees will be eligible for further family discounts. The 2nd family member will remain at a 20% discount. The 3rd family member will receive a 40% discount.

A Program Your Company Will Flip Over
The Corporate Discount Program is absolutely FREE to your company. In addition, participating Company's receive a FREE onsite interactive Kata Box Seminar. This is one seminar your employees won't forget! There's no need to be in shape or have experience… just be ready for a good time!

Kata-Box. Combining boxing and karate kicks will work your body from head to toe. You will learn how to increase the power of your punch by 100%. Your agility will improve, and you will work muscles that you didn't even know you had! Make getting in shape a reality while having fun.

Streetwise Practical Self-defence. Learn how to defend against common attacks regardless of your opponent's size or strength. You will learn how to find the weakness of an attack and exploit that weakness using leverage. This empowering seminar will  increase your awareness and make you comfortable with basic karate techniques that could get you out of a potentially  dangerous situation.

It's Easy to Get Started
To find out how your company can provide all of its employees and their family members significant savings on Ashihara Karate's Beginner Program

e-mail info@ashiharakarate.org Or have a look at our locations page for a list of schools near you.